Locke: Son of immigrants with eye on US-China trade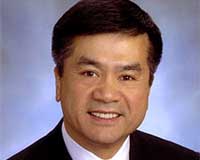 Gary Locke, the first Chinese-American governor in US history.
by Alex Ogle

Washington (AFP) Feb 25, 2009

Gary Locke, the first Chinese-American governor in US history, picked Wednesday by President Barack Obama as his commerce secretary, could help spearhead trade with economic giant China.

If confirmed -- after Obama's two previous high-profile picks for the cabinet post stepped aside amid controversy -- Locke's experience as governor will likely prove invaluable, as Washington and Beijing continue to iron out trade disputes caused by China's meteoric rise.

As a two-time leader of Washington state on the Pacific northwest coast, Locke embarked on many trade missions to China and Taiwan, meeting then-president Jiang Zemin and building ties with current president Hu Jintao.

He even established a trade representative in Guangzhou, a booming provincial capital in southern China.

Locke's visits introduced numerous companies from Washington state to China, and helped more than double the state's exports to China to top five dollars billion per year.

"Gary will be a trusted voice in my cabinet," Obama promised in introducing the 59-year-old as his commerce pick at a press conference.

Locke will be "a tireless advocate for our economic competitiveness, and an influential ambassador for American industry who will help us do everything we can -- especially now -- to promote it around the world," said Obama.

Locke's background -- he would be the third Asian-American in Obama's cabinet after Steven Chu as Energy Secretary and Eric Shinseki at Veterans' Affairs -- will also likely inform his future role overseeing the next decennial census in 2010.

Many Democrats believe the critical survey, used for everything from long-term infrastructure planning to budget allowances, fails to count properly immigrants, minorities and low-income Americans.

Born into an immigrant family, Locke's personal history roots him in both the American experience and his Chinese ancestral home.

His grandfather arrived in the United States a century ago by steamship from Taishan in Guangdong province, and worked as a servant.

Obama praised Locke's heritage by describing it in terms of the "American story."

The president recalled how Locke's grandfather had no family in the United States and did not speak English. However, he "found work as a servant and purpose in a dream."

Locke's family settled in the Seattle area, with Locke spending his formative years living in Seattle's Yesler Terrace -- America's first racially-integrated housing project.

The son of a grocery store owner, Locke earned a bachelor's degree in political science from the prestigious Yale University, thanks to a combination of "part-time jobs, financial aid and scholarships," according to his web site.

He later served as a deputy county prosecutor before being elected to Washington State's House of Representatives.

Between 1989 and 1994 he served as chairman of the House Appropriations Committee and was responsible for overseeing the state budget. In 1996, he was elected governor with 58 percent of the vote.

While governor, Locke was seen as a rising star of the Democratic party, giving the party's response to then president George W Bush's 2003 State of the Union address, highlighting "education, hard work, responsibility and family" as his sustaining values.

He is married to Mona Lee Locke, a former television reporter who has focused on education issues as Washington's first lady. The couple has three children.

A fiscal conservative, Locke described the Bush tax-cuts -- which reduced levies on families earning more than 250,000 dollars a year -- as "irresponsible" and advocated tax relief for the middle class.

Since leaving office Locke has retained close ties with China. He is a member of the Committee of 100, a group of prominent Chinese-Americans who promote links between the United States and "greater China."

He is currently a partner at the Davis, Wright, Tremaine law firm, where he co-chairs its China practice and is "active in the firm's governmental relations practice," according to the Committee of 100.

There are now 14 million Asian-Americans, making up five percent of the total US population. Their number is expected to nearly triple in 2050 to 41 million, government figures show.